theguardian.com - In Gaza City's main market Mohammed Hilis stood disconsolately among piles of fruit and vegetables, waiting for customers. In the runup to Eid al-Adha, the second most important festival in the Muslim calendar, the market was unusually quiet. Steep price rises, unpaid salaries and layoffs – the consequences of the new Egyptian regime's antipathy towards Hamas – have been painfully felt by the Gaza Strip.
"A kilo of tomatoes used to be one shekel [17p]; now it is five shekels. Most prices have gone up 50 – 60%," said Hilis. "Why? Because of the costs of transportation, because there is no power to pump water to the fields, because there is no water. So people buy less." As a result, his wages have slumped from 30 – 20 shekels a day, playing its small part in propelling the downward spiral of Gaza's economy.
Six years after Israel imposed a stranglehold on Gaza as a punitive measure against the Hamas government, the strip of land along the Mediterranean is facing a new chokepoint from the south. After the Egyptian military forced President Mohamed Morsi out of office in July amid a brutal crackdown on the Muslim Brotherhood, the army embarked on a drive to regain control of the anarchic Sinai peninsula, isolate the Brotherhood's allies in neighbouring Gaza, and halt the traffic in goods, weapons and people through the tunnels under the border with the Palestinian territory.
According to the commander of Egypt's border guards force, Major-General Ahmad Ibrahim, almost 800 tunnels have been destroyed by his troops this year. Hamas is coy about the number of tunnels put out of action. But Hatem Owida, Gaza's deputy economic minister, said activity had been reduced by 80-90% since the military takeover in Egypt.
The impact has been swift and harsh for the people of Gaza. The plentiful supply of cheap Egyptian fuel has almost dried up; fuel from Israel is both scarce and twice the price. The fuel crisis has meant Gaza's daily power cuts now last up to eight hours. Prices of basic foodstuffs have risen, according to Owida: flour is up 9%; cooking oil 4 – 5%; and sugar 7%.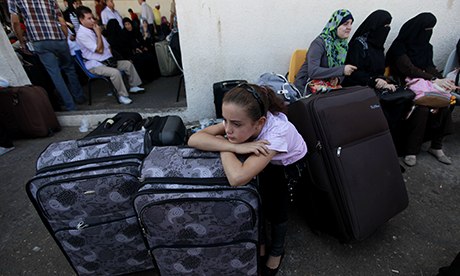 A girl rests on her luggage as she and her family wait to cross into Egypt from Gaza at the Rafah border crossing. Photograph: Hatem Moussa/AP
The flow of construction materials has also slowed to a trickle, reversing a building boom seen in Gaza in the last few years. As a result of the crisis, Israel has eased its tight restrictions on the import of cement, gravel and iron, but only about 25% of Gaza's needs are being met and prices are around 30% higher. And on Sunday, Israel suspended delivery of construction materials following the discovery of a tunnel between Gaza and Israel, which it said was intended to be used to launch an attack.
The impact on the Gazan building industry has been catastrophic. "This is the second worst year we have known," said Nabil Abu Muaileq, head of the Palestinian Contractors' Union. Only 2008 – after Israel imposed its blockade – was worse. At least 15,000 construction jobs had been lost, he estimated. "The situation is very unstable."
According to a paper produced by the economics ministry, $450m (£280m) was lost to the Gazan economy between mid-June and the end of August as a result of the tunnels closures. More than a quarter of a million jobs have been lost across all sectors, with construction, services, transport and storage, manufacturing and agriculture taking big hits. It is a massive blow to an economy which had been showing small signs of growth.
Now, the beleaguered and overcrowded Gaza Strip faces a new economic free fall. The Hamas government's income has slumped, having lost nearly all its revenue from the taxes imposed on goods brought through the tunnels. "We cannot deny we are affected badly," said Owida. "We've lost about 30% of our income."
Around 47,000 government employees were paid only half their salaries for August, and had received nothing for September, although some payment was expected before the start of Eid.
The new regime in Cairo has also closed the Rafah crossing for long periods, the only exit from Gaza to Egypt. According to Gisha, an Israeli organisation that monitors the movement of people and goods in and out of Gaza, the number of people leaving through Rafah has fallen by 76% since July.
Although Israel has increased by 24% the much smaller number of permits it grants to exit through the Erez crossing at the northern end of the Gaza Strip, there are still thousands of Palestinians trapped in Gaza: patients unable to access medical treatment; students unable to take up university places; expatriate Gazans unable to return to jobs in the Gulf states and elsewhere.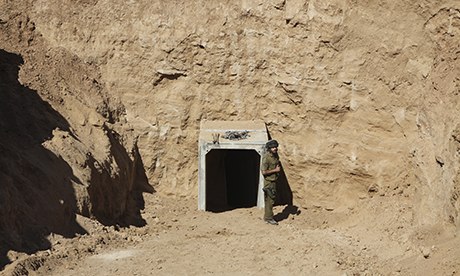 An Israeli soldier stands by the opening of a tunnel from Gaza, that the IDF claims was built by terrorists. Gaza relies on a network of underground tunnels for black market goods but they are being closed by Israeli and Egyptian forces who say they are security threats. Photograph: Wideweb Videographer/Corbis
Fida'a Abu Assi, 25, was supposed to enrol at the University of Indianapolis by the 26 August for a masters in international relations, for which she had won a rare scholarship. On 7 October, the deadline for entry to the US detailed on her documentation, she was still in Gaza City, unable to leave either via Rafah or Erez.
"I blame Israel because they make our lives hell, and I blame Egypt for closing the Rafah border. They know there are students, patients, businessmen trapped here. People's lives are not a game. They are collectively punishing us," she said. "Every time you think things are getting better in Gaza, it gets worse again. You learn not to have any expectations."
Gaza's oldest travel agency, Shurafa Tours, has been dealing with the practical consequences of closures for decades. "People feel they are in a big prison. Every movement needs a permit, there is no schedule for when the crossings will be open, people just have to wait," said the manager, Nabil al-Shurafa, adding that some travellers were rebooking tickets three or four times at huge expense.
The military takeover in Egypt, and the crackdown on the Muslim Brotherhood, has had a significant political, as well as economic, impact. "Yes, it's a blow to Hamas," said Taher al-Nounou, an official in the Palestinian movement.
In the past two years, Hamas has loosened its ties with its former sponsors and allies – Iran, Syria and Hezbollah – while investing hope and expectation in the regional rise of the Muslim Brotherhood. The strategy now appears to have backfired.
"The isolation imposed on Hamas and the Gaza Strip is now even worse than in the summer of 2007," said Mkhaimar Abusada, a political scientist at Al-Azhar University Gaza, referring to the period after Hamas took control of the Strip 18 months after winning elections. In an indication of the chill winds felt by the movement, Hamas leaders have largely gone to ground since the Egyptian coup, rarely travelling and making relatively few public appearances.
"The issue is not just about Egypt and Hamas; the whole region is now becoming more hostile to Islamists," said Abusada. "Hamas looks at this as a new siege of Gaza. And people on the street are sick and tired of being kept in a cage. The situation here could be on the verge of collapse."